All about the National Research Data Infrastructure (NFDI)
Part 2: What is the ZBW's contribution to BERD@NFDI?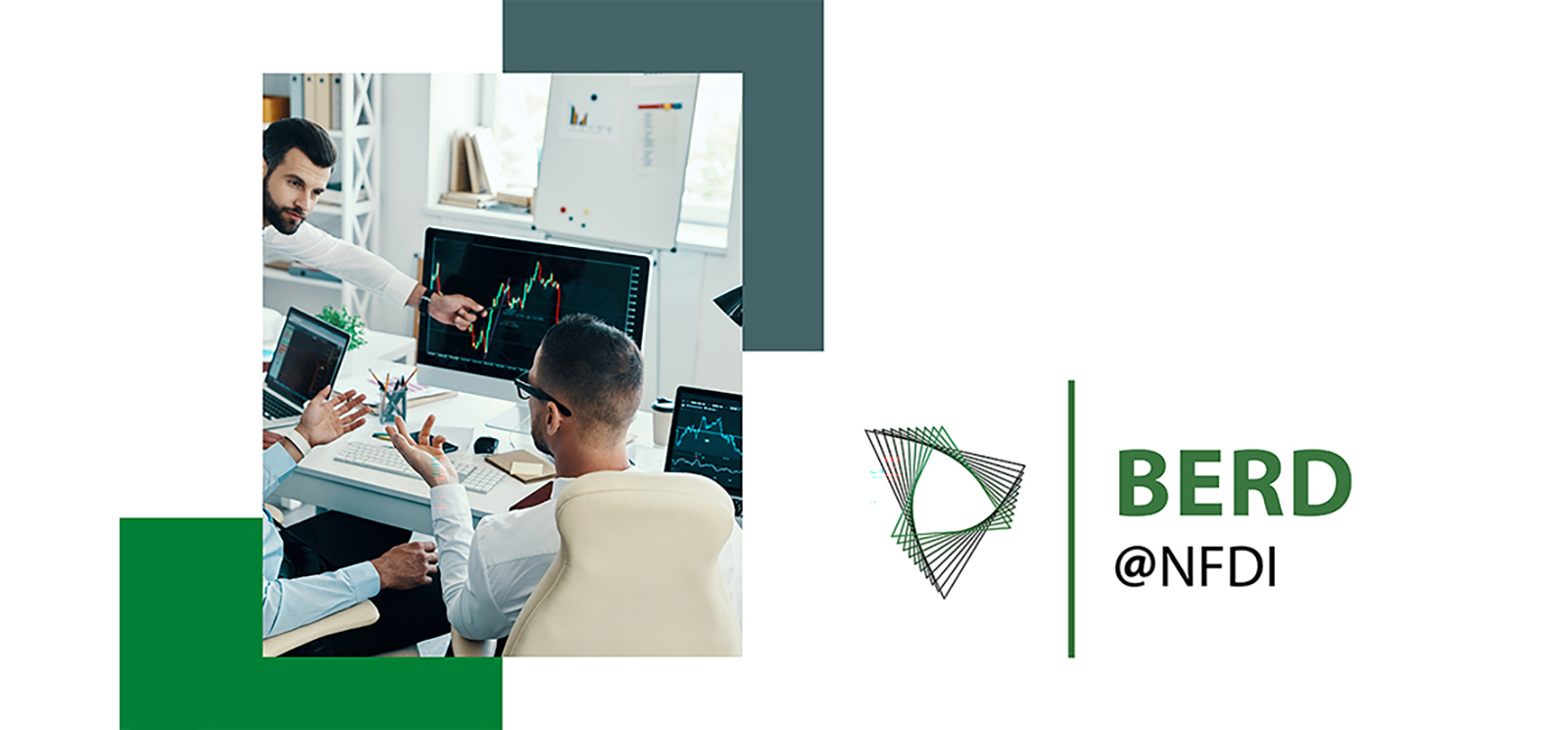 What is BERD?
The acronym BERD stands for Business, Economic and Related Data. BERD is the NFDI consortium for business studies and related data and will build a high-performance platform for economics and related data until 2026. These will not only be stored and archived on the platform, they will also be available for (pre)processing and analysing.
What are the goals of BERD@NFDI?
BERD@NFDI wants to develop a research data infrastructure for the integrated management of unstructured data such as video, image, text or mobile data, big data and scientific software. The service portfolio will extend beyond providing storage space for data and scientific software and is oriented strictly towards the needs of the scholarly community.
How is BERD different from other NFDI consortia?
Alongside data, BERD@NFDI puts the focus on the algorithms and technologies needed for collecting, processing and analysing data. The scientific community will be involved through the learned societies in economics and social sciences and through a survey among early career researchers that identifies user needs and takes them into consideration. BERD@NFDI focuses integrated management of (un)structured data and related scientific data in science and business and has a clear commitment to openness (e.g. open software, open standards) and reproducibility (as in the FAIR Data Principles).
What does the ZBW – Leibniz Information Centre for Economics contribute to BERD@NFDI?
The ZBW has been engaging in research data management for many years.
Various ZBW projects are working towards building federated research data infrastructures, promoting the sharing of research data, the reproducibility of research findings, Open Science practices, and data literacy.
The ZBW is a knowledgeable partner for research data in economics and related technologies. The ZBW is also an active driver in the international network of resarch data actors in the context of data literacy, infrastructure, and policy making.
Read more about it here.
In BERD@NFDI the ZBW is responsible for the development of infrastructure components supporting essential phases in the life cycle of research data. The ZBW contributes its knowledge regarding research data management and digital information infrastructures, including technologies developed during various research data projects such as GeRDI.