Make your voice heard in economic policy debate
Practical guide Wirtschaftsdienst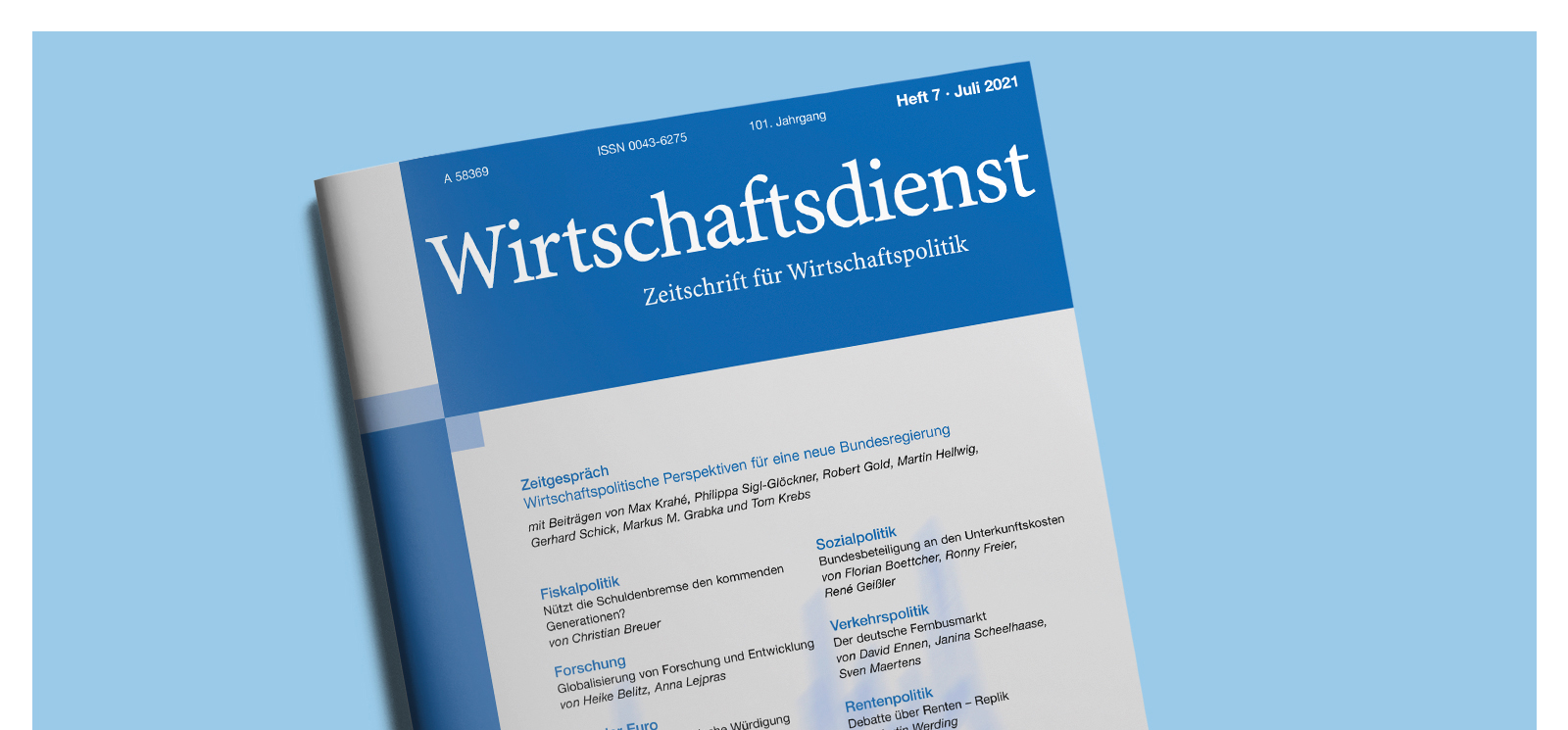 Make your voice heard in economic policy debate with an article in Wirtschaftsdienst – Zeitschrift für Wirtschaftspolitik  
What is Wirtschaftsdienst?
Wirtschaftsdienst is a renowned journal for economicy policy debate in Germany. Its content builds a bridge between academic research and political practice. Articles on economic and social policy topics are written by well-known authors from academia, politics and practice. Wirtschaftsdienst has a long tradition as a journal for economics since first being published in 1916.
URL: www.wirtschaftsdienst.eu/
How is the journal published?
Since January 2020, Wirtschaftsdienst has been published in Gold Open Access, i.e. all articles are freely available online. The journal is published monthly by Springer and also offers subscriptions for printed copies.
What can I publish in Wirtschaftsdienst?
We invite you to submit articles on economic and social policy issues presently discussed in Germany. Articles should provide recent findings and background information for political decision makers and contribute to an exchange of ideas for politics and the expert community.
Submitted articles should not have been previously published elsewhere. Depending on the section in which you want to place your contribution, it should have a length between 5,000 and 33,000 characters.
How do I submit my paper?
Write to the Editorial team at redaktion@zbw.eu.
Which language should I write in?
Wirtschaftsdienst is published exclusively in German.
Do I retain the rights in my article?
If you publish in Wirtschaftsdienst as an author, you retain the copyright in your articles and are free to reproduce and to disseminate your work (see the copyright and licence agreement for more details).  
Who is the target group of the journal?
Political decision makers are the main target group. However, it also includes researchers, media representatives and the general public in its target group. It is widely read especially in German ministries at the Federal and State level. 
Do I have to pay for publishing a paper?
Wirtschaftsdienst publishes your articles without author fees. This service is free of cost to you, like all other ZBW services.
Will my paper be peer reviewed?
One of the advantages of Wirtschaftsdienst is its quick response to hot political issues. The journal is reviewed internally.
What are the benefits if I publish in Wirtschaftsdienst?
You will be noticed in economic policy debates. In addition, your Open Access paper will be disseminated by the ZBW. Wirtschaftsdienst is available in our portal EconBiz and our Open Access repository EconStor. Through EconStor, publications are disseminated into other portals and search engines.
The journal's reach has grown as can be seen in the number of downloads: it increased in 2020 by five per cent in comparison to 2019, from 1,081,439 downloads to 1,135,859. The number of visits on the website grew by 64 per cent in this period. There will be another increase in 2021, the number of downloads during the first six months stands at 958,115.
Date: August 2021
Questions, comments and notes are welcome at redaktion@zbw.eu